The standard Petflap comes with trunking suitable for doors up to 65mm deep (i.e. 70mm thick).
You can request extended or shorter trunking to allow you to fit the Petflap through a wall or to have less trunking sticking through a window. We can build you extended trunking from 80mm up to 590mm.
Maximum length extended trunking: 590mm
Minimum length trunking: 35mm
For trunking over 240mm long, the Petflap will need an inset flap at the house end. As we cut the trunking to suit your wall, it will project less than 10mm into the room, and the rear-fitting ring will sit over it to give your installation a neat finish. The inset flap will sit a few centimetres back from your wall.
Please note: we can't retrofit extended trunking to a Petflap that already has regular trunking fitted. If you need extended trunking please don't buy through the cart but contact us and we will create your Petflap order separately. We will need to know how long your trunking needs to be, and we always add on a little to allow for the fitting ring and small variations between your measurements and ours.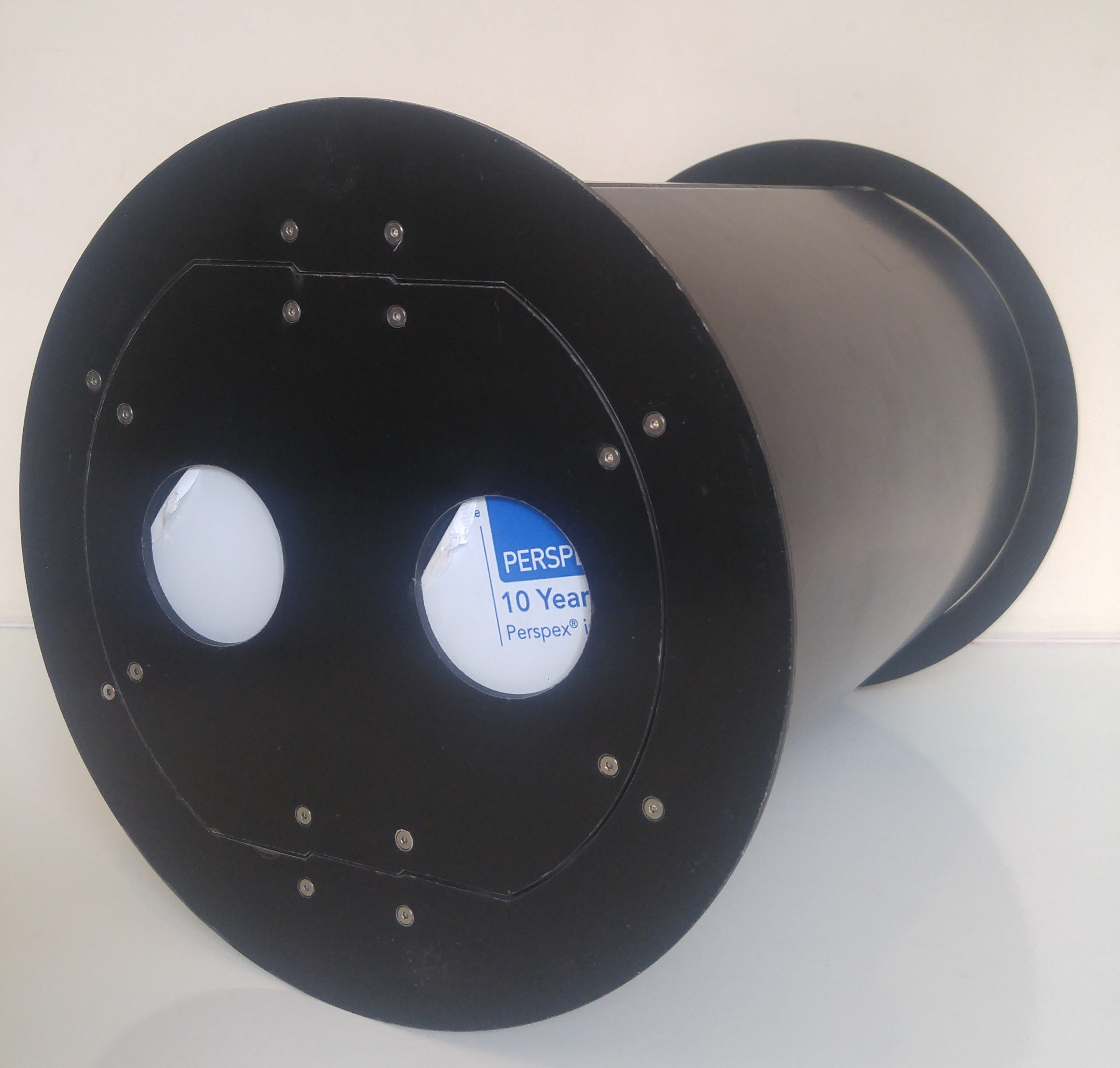 Dimensions of the Petflap
Pet access
103mm x 187mm each side
If you want to check whether your pet can fit through you can download a life-size PDF of the pet access flap to cut out. (Make sure you print at 100%, not fit to page. You can check this by measuring the 1cm square in the corner.)
Outer Frame
Trunking
253mm diameter
The square-edge model has round trunking
Door hole cut
256mm minimum – the hole must not pinch the trunking at all
For further details see fitting instructions (link below)
Suitable for doors up to 65mm deep
The trunking supplied as standard is 70mm long
Different trunking lengths are available as a special order (see below)
Front frame
The front frame sits 3mm (max 4.5mm) proud of the door/wall/window surface.
This can be sufficiently slender to work with sliding glass doors.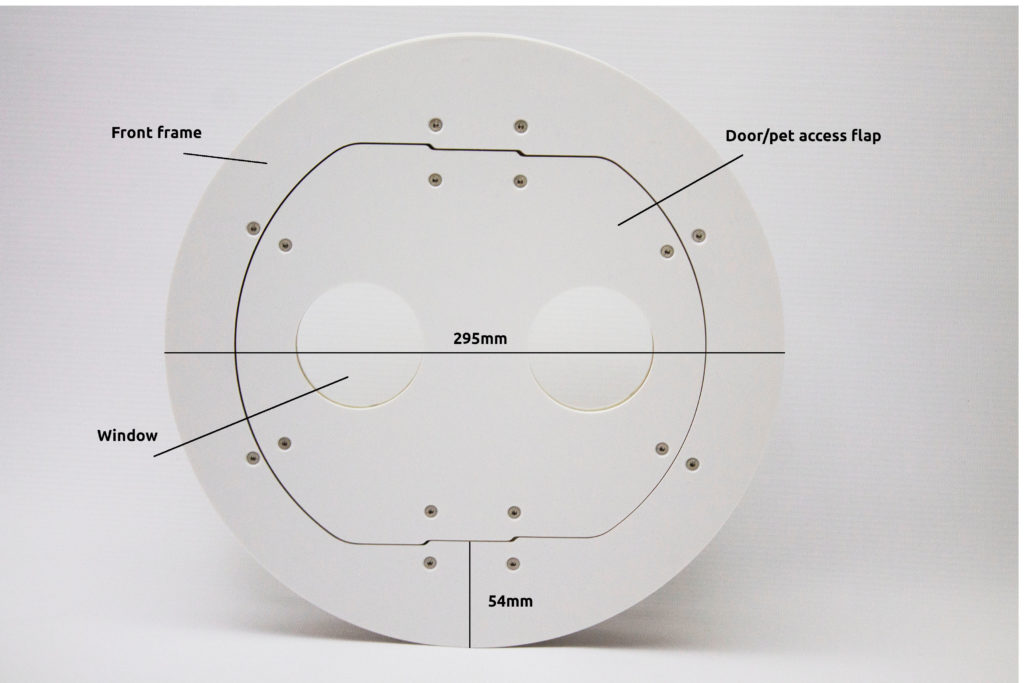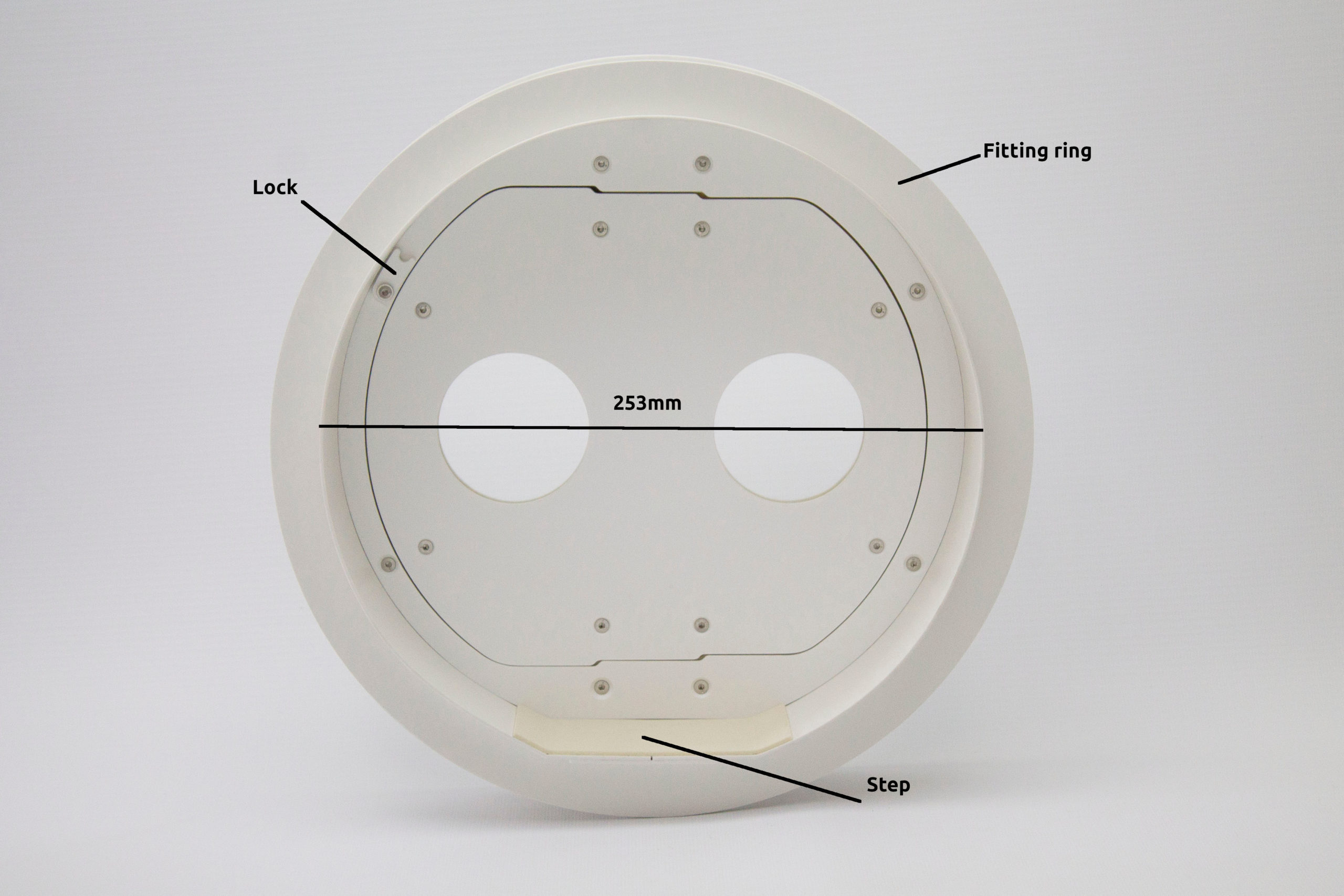 Is my door suitable?
The Petflap needs to be fitted into a flat area a little bigger than 295mm diameter (or 295x295mm square for a square-edge Petflap).
The trunking needs a hole cut 256mm diameter.
Most panels, moulding, ridges or other surface interruptions, front or back of the door, preclude fitting a Petflap. Tongue-and-groove is an exception as long as all grooves are well sealed. The Petflap's front frame needs to make a good connection to the surface, which can be hard on a door with detailing. You could fit the Petflap into a separate panel and then replace a section of your door with that panel. Otherwise your Petflap could go into glass or through a wall.
Please get in touch if you're unsure whether your door is suitable.
Before buying a Petflap, please check:
Your door has a large enough flat surface to fit it into
Your door doesn't have any locking or structural mechanisms inside it that will be disturbed by fitting a Petflap
You won't invalidate a door guarantee by fitting a Petflap
Your pet can pass through comfortably (download the lifesize pdf)
Fitting instructions here
Please ask us any questions you have about buying, fitting or using a Petflap.
Petflaps of other shapes and sizes
Please get in touch if you're looking for anything different from our standard model. We can offer the Petflap with:
a larger front plate to cover an existing round hole larger than 300mm
a square front plate to cover an existing or enlarged square hole
trunking with a Petflap at one end and that connects to an existing catflap at the other end
a larger door suitable for a dog
A square fronted Petflap, shown here, is suitable for covering the corners of  a square hole cut big enough to accommodate the Petflap trunking. This is useful if you have a square hole left over from an existing top-hung catflap. Please note that square-edge Petflaps still have circular trunking.
These are all special orders and take about two weeks from ordering. Please get in touch to discuss your requirements.