We're often asked whether a Petflap can be fitted into glass doors and panels and the answer is "Yes, it can".
We've modified the design from 'squoval' to mostly circular to make this much easier to fit. Our new trunking with a flat stretch top and bottom fits very nicely into a perfectly circular hole.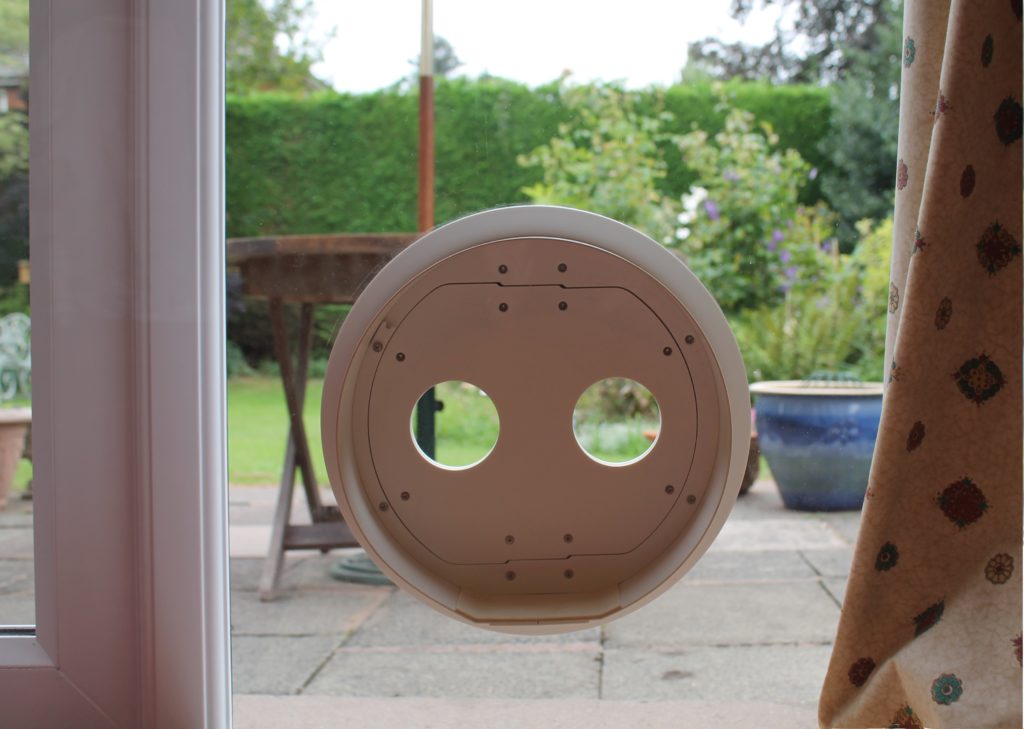 Fitting a Petflap into glass
Essentially fitting a Petflap into glass is exactly the same concept as fitting into a door but there are a few things to take into consideration when looking at fitting a Petflap into glass, so please read the following.
We recommend having your Petflap fitted by a professional experienced in this sort of work, as poor fitting can affect the Petflap's performance.
We can't comment on the suitability of your particular glass/double glazing. Please ensure you have appropriate expert advice on this before fitting a Petflap.
We're happy to speak directly to your glazier about any questions they have.
We accept no liability for inconvenience or expense arising from faulty fitting. Please ensure our fitting instructions are followed, especially with regard to cutting the hole large enough and determining the suitability of all aspects of the Petflap and your window or panel for your requirements.
There needs to be about 2mm of 'play' in the hole to ensure that the Petflap will work properly, but a reputable glazier will know this and cut accordingly.
Petflaps set into a hole fractionally too small may not shut reliably, and the glass itself might be compromised if put under pressure in that way.
Considerations before you start
Thickness of glass
The Petflap fixes to a door's surface so in theory fitting a Petflap into glass isn't a problem (no need to cut bolt holes), but the trunking needs to sit comfortably within the thickness of the door and not distort as an animal travels back and forth. This can be an issue when proposing to fit a Petflap into a particularly thin glass door or panel. If possible replace the glass panel for something thicker. This is also a good solution in a rented property, as the original pane can be put back when you leave the property.

The Petflap's front plate is 3mm deep so if your glass doors slide past each other they would need enough clearance to accommodate this.
Trunking
The Petflap comes with trunking to suit doors up to 65mm thick.

If you would prefer shorter trunking to fit into glass please get in touch. We can provide trunking from 35mm long.
Specialist advice
Before you order a Petflap or cut into your glass door or panel we would always advise you consult a specialist glazier for an expert opinion. We're happy to speak directly to your glazier to answer any questions.
Can I move a Petflap already set into glass?
Yes, a Petflap can be removed from a pane of glass and fitted in an entirely new location. Here are the steps:
Step 1: Using a sharp thin blade about 2cm or longer (like a safely mounted razor blade or craft knife) slice away the sealant on the rear of the fitting ring (where it meets the glass) so as to remove it from the glass. Pull the fitting ring away gently from the trunking – it might adhere to the trunking in one or two places. Carefully cut any sealant that is on the trunking connecting it to the glass or that would obstruct removing the Petflap from the front.
Step 2: Using the same blade cut sealant from the rear of the outside front face and the glass until the Petflap can be eased out of the window aperture with gentle twist and pulling action.
Don't use excessive force and don't attempt to do more surface cleaning when removing the Petflap as it is simpler to clean surfaces once removed.
Don't use a hairdryer or heat gun on the sealant as this can distort and damage the Petflap and similar plastic materials in the glazing.
Step 3: Using a flat blade (eg razor) you can scrape the sealant off the glass surfaces, taking care to not scratch the glass. A similar process on the Petflap flat surfaces will remove sufficient sealant to re-use.
If you intend to remount the Petflap in this or another window, you don't need to remove every trace of sealant, just so long as it does not prevent achieving a flat even mount to the glass.