Before you start fitting your Petflap
Please read the instructions through completely before beginning to fit the Petflap.
Make sure that the Petflap is the right product for you before fitting.
Make sure your pet fits through and that the product has not sustained any damage in transit or unpacking. Push open the flap by hand a few times.
Please make sure you're happy with the closing action and the lock.
In order to avoid breaking your warranty, please ensure you understand all the instructions before you start to install the Petflap.
If anything is unclear or you need further advice, first check the FAQ and then contact us on info@ecoflap.co.uk.
Listen to the audio version
Full fitting instructions online
Download the PDF version of the fitting instructions
Warranty
So long as our fitting and operating instructions have been followed and the Petflap has been in normal use and not modified in any way, we offer a two year return to base warranty.
Please ensure you are happy with the movement of the pet access flap before starting to fit the Petflap. Please get in touch BEFORE FITTING if you have any concerns about your Petflap. By fitting your Petflap, you acknowledge that it is working properly on receipt. We can accept no liability for any costs arising from a Petflap developing problems in situ. If the Petflap has a problem outside of this period or these terms, please do get in touch as we may still be able to help you.
We accept no liability for inconvenience or expense arising from faulty fitting or Petflaps developing a fault in use, though we will be keen to help.
For more help and advice or to safely return your Petflap to us, please email us at info@ecoflap.co.uk
Care and maintenance
To ensure your Petflap gives you and your pets years of use:
Keep it clean with a damp cloth
Make sure the bottom jamb is free of grit and any other obstruction
A small squirt of silicone lubricant (not mineral oil) from time to time will ensure optimum operation
If your door has panels please measure the door prior to purchase to see whether the Petflap can fit within one panel. If it can't then the door is not suitable for a Petflap.
Please note that the Petflap is supplied with its protective film in place on all surfaces including the windows. Remove the film after fitting, by pulling gently.
We recommend having your Petflap fitted by a professional experienced in this sort of work, as poor fitting can affect the Petflap's performance.
Please ensure the instructions in our fitting leaflet are followed carefully.
Locking mechanism
This is a simple mechanical lock that can be moved to the locked or open position. When training a pet to use the Petflap, lock the flap open (see image)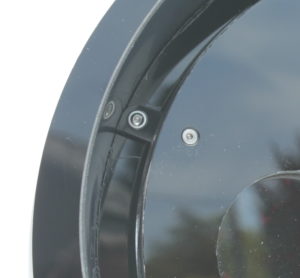 Painting the Petflap
You can paint your Petflap to match your decor, if you wish. We suggest painting it before you install it.
Keep the window film in place when you spray.
We suggest spraying the external face rather than the internal one. It's easier to do.
We can't accept returns due to a bad paint job. Our guarantees of course cover our own workmanship and though we love our customers, we can't yet cover yours.
Protect the Pivot! (and the lock… windows, and the foam seal)
The door depends on its pivot. We make it from stainless steel with brass and it should be maintenance free. It won't like your paint gumming up the works.